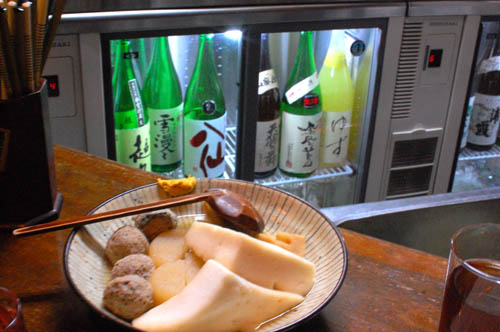 : Open Sundays
---
Odako is a place where oden finally gets the respect it deserves, presented with top-grade small-producer sake. Here, oden is prepared fresh daily in a Kansai-style broth, which is not nearly as strong-tasting or as salty as the Kanto-style common to Tokyo. The pieces are simmered long in this light, savory broth to bring out the flavor of the ingredients, rather than hammering them with increasingly concentrated levels of soy sauce as the broth cooks down.

Junmaishu like Ichinokura (500 yen) from Iwate and Denshu (700 yen) from Aomori grace the menu. But the real treats are to be discovered by asking your server about the "special" sakes of the day not listed on the menu. On a recent visit this turned up Shitaizumi (800 yen), a tokubetsu honjozo bottled just two days previous that exhibited the sort of crackling flavor that makes truly fresh sake such a treat.

Of course, the oden is no less glorious, and the prices no less impressive. They start at 100 yen for such basic items as konnyaku (jellied devil's tongue root), boiled whole egg, an incredibly soft savory konbu seaweed, and hanpen fishcake, with its marshmallow texture that really soaks up the broth to allow you to taste how skillfully it's been prepared.

Moving up the scale are the 200-yen fried tofu (atsuage), fukubukuro (a bag of tofu skin filled with chopped vegetables), and a peppery ganmodoki tofu cake. A surprising treat here is the 300-yen hotate (scallop), which to my surprise was very lightly cooked, leaving it juicy and tender. It was only outdone by a heavenly sheet of silky yuba (skin of soy milk), which at 450 yen was one of the most expensive oden items.

In addition to a very complete assortment of oden, Odako serves some offbeat izakaya dishes, such as fresh okra with ginger bud, kombu seaweed with herring roe, and seaweed with jellyfish strips (all 500 yen).

Low prices like these for such great food and sake have made Odako quite popular, and to secure a seat it is best to arrive before 6:30pm. Though there are counters and seats on two floors, the best action is at the first-floor counter, embedded in which is the large octagonal oden cauldron (for want of a better word), where you can see what your selections will be.
by Bryan Harrell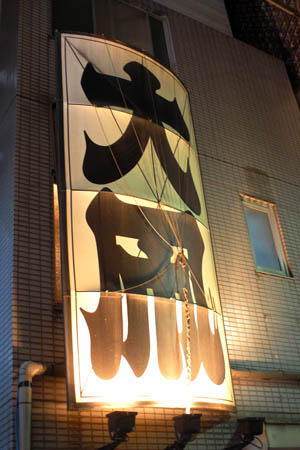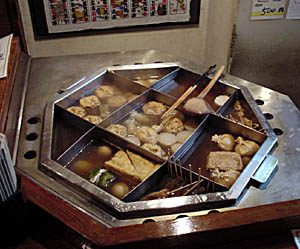 Venue location
Ueno
Taito-ku, Ueno 2-3-1.
What's nearby
Browse more
---
---