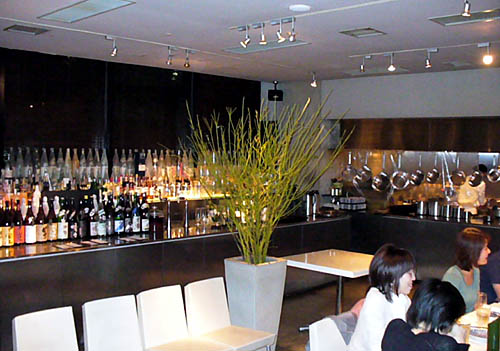 Open 11am-2, 5:30pm-midnight. Closed Sundays.
: Notable decor
---
They may bill themselves as a "New York-style Japanese restaurant", but don't be fooled - Tama is another creature entirely: a genuine 21st-century Tokyo izakaya. The very original food and drink menu is as up-to-date as the decor, and the attitude is sophisticated without being snobbish, friendly but non-intrusive.

The decor at Tama is minimalist industrial - all burnished steel counters and crisp metal blinds, with a large open kitchen at one end and an outdoor terrace area at the other. The food is custom-designed izakaya fare based on the classics. Recent menu highlights included gingery shrimp and fish-paste dumplings (Y780), spicy stewed beef cheeks (Y780), and tempura of tara no me, a seasonal mountain vegetable that was simply perfect. One popular specialty of the house is ishiyaki ojiya (Y980 for two), a fried rice and egg dish served in a heated stone bowl that sizzles entertainingly at your table. Some of the simplest dishes are given added life by smart seasonings and unexpected sauces, with elements of miso, ginger, and sweet and spicy components.

The mostly French wine list is similarly unorthodox and very reasonably priced, starting at just Y2700 per bottle. Cocktails range far beyond izakaya territory, with drinks like tequila tonic and cassis soda (or "cassis sodium" on the charming English menu).

The off-the-beaten-track location (midway between Gaienmae and Aoyama 1-chome) is another hint that Tama is aiming at a word-of-mouth clientele rather than the typical after-work crowd. If you like interesting food, it's worth looking for.
by Scott Cooper
Venue location
Gaienmae
Minato-ku, Kita-Aoyama 2-3-1, C.I. Plaza 2F.
What's nearby
Browse more
---
---